dec 5th '14
http://themintla.com/event.cfm?id=183246&cart
nov 4th '14
http://themintla.com/event.cfm?id=178838&cart
sept 12th '14
after a few summer months of all sorts of other shenanigans going on, now we're rolling back into some live action! it's another saturday night of jammin in west los angeles @ the mint on oct 4th, so cmon out! more info and tix right here.... http://themintla.com/event.cfm?id=175688&cart
june 14th '14
more saturday night live action on june 28th @ the mint! score your tickets right here.... http://themintla.com/artist.cfm?id=9519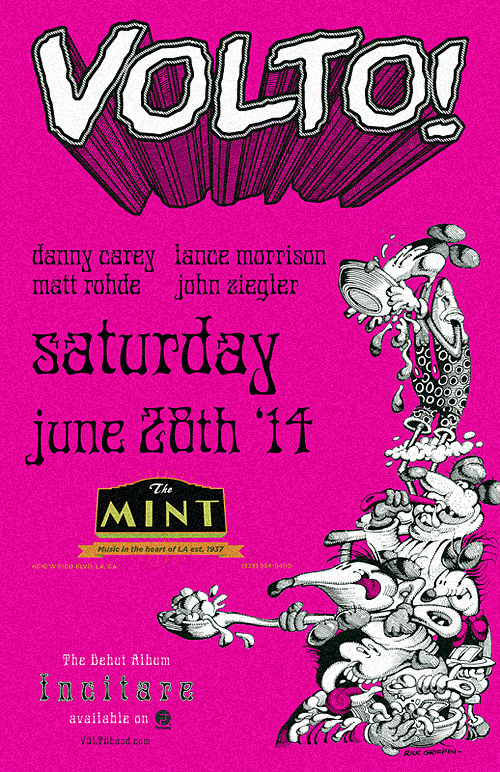 apr 29th, '14
continuing the highly successful saturday night series of live shows at the mint in west los angeles on May 17th, with tickets available online from the updated VOLTO! profile page on the mint's website... http://themintla.com/artist.cfm?id=9519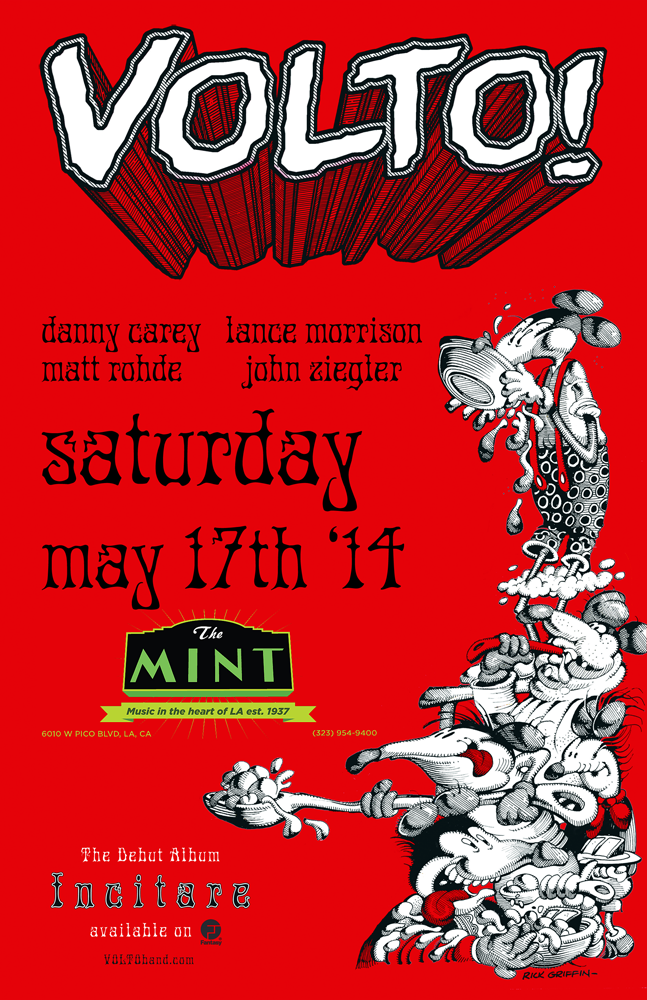 mar 29th, '14
after a fantastic recent return to the mint, it's going down once again on Saturday, Apr 19th! this time out with special guest "gryphon labs" and "zookeeper's palace". score your tickets asap right here... http://themintla.com/event.cfm?id=140298&cart

feb 12th, '14
after an over 6 month wait, there is a gig here in LA, finally! on Saturday, Feb 22nd 11:30pm VOLTO! takes the stage @ The Mint. tickets are available online right here... http://themintla.com/event.cfm?id=137426&cart
sept 25th, '13
VOLTO!'s own John Z on the airwaves(interwebz)! tune in to Oscar's Guitar Shop http://www.oscarsguitarshop.com this Friday, September 27th @ 2pm PDT and it'll be live on LA Talk Radio http://www.LAtalkradio.com.
find out everything(?) you've ever wanted to know about VOLTO! guitarist John Ziegler http://www.johnZguitar.com. they'll discuss the new debut album "Incitare", his residency at the famed Baked Potato Jazz Club here in studio city, and a whole bunch of other stuff!
The show can be downloaded the next day for free on iTunes here: https://itunes.apple.com/us/podcast/oscars-guitar-shop/id592290314 under the podcast section look for "Oscar's Guitar Shop". the show can also be downloaded from http://www.stitcher.com, and is available for Apple, iPhone, iPad, Android and Kindle devices.
sept 15th, '13
be on the lookout for the next leg of the Incitare Tour '13, locatons and dates coming your way soon. in the mean time, check out all the new EXCLUSIVE offerings in the official VOLTO!/Fantasy Records online store.... http://www.myplaydirect.com/volto there's lots of fantastic new bundles of stuff for y'all to procure, spread the word, and fly the flag. cheers and enjoy!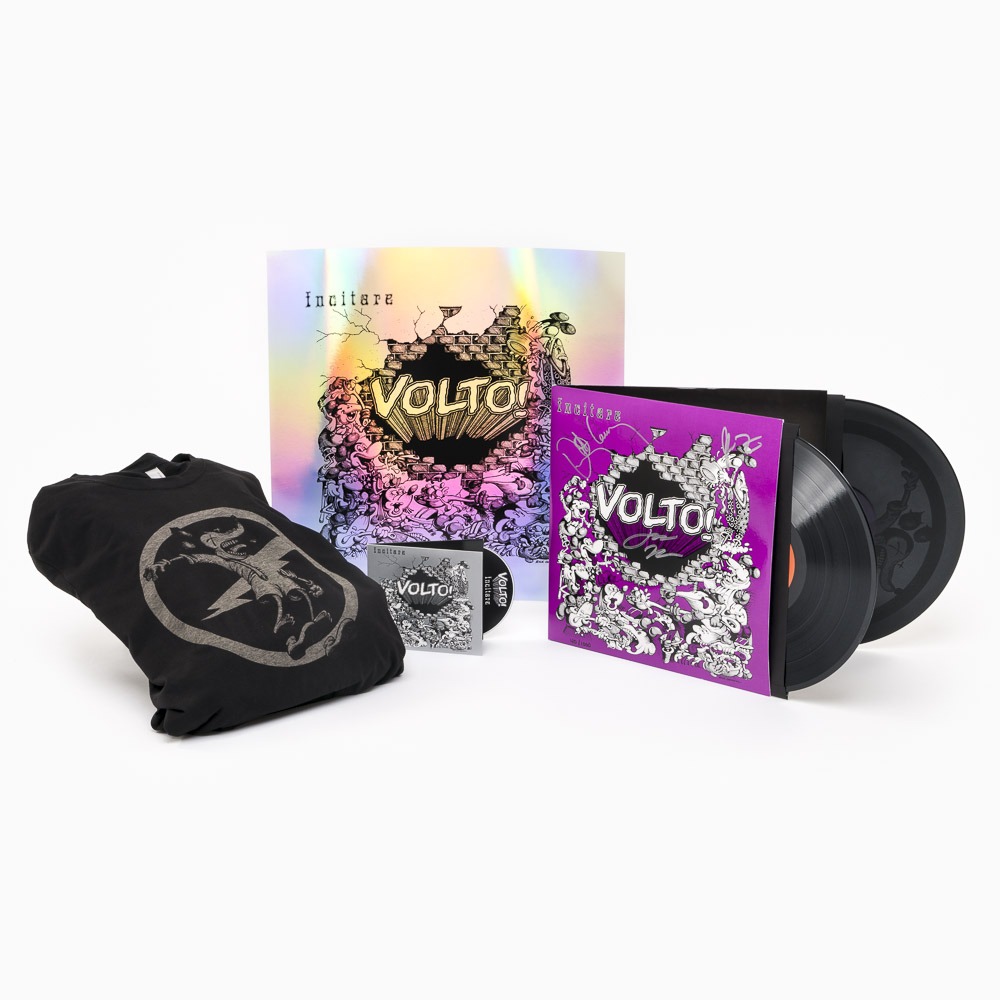 aug 13th, '13
the first leg of the Incitare Tour '13 has just been completed, and it was a smashing success! we all hope that everyone who made it out to the shows had as much fun and rocked it as we all did! thanx and cheers to y'all! now on to LOTS more stuff coming soon(tour dates, special offers, etc)! plus, in the mean time, craving the pure uncut stuff?!? voila and enjoy....
VOLTO! "Incitare" Album HDtracks High Resolution Audiophile Music Downloads
july 31st, '13
john z and danny interview on musicradar.com....
http://www.musicradar.com/us/news/guitars/danny-carey-and-john-ziegler-talk-volto-tool-improv-and-rick-springfield-581378/1
july 29th, '13

danny spinning some tunes and talking to rynne about the "Incitare" album and upcoming tour on the "children of saturn " internet radio program.....
http://traffic.libsyn.com/childrenofsaturn/COS_83_VOLTO.mp3
july 25th, '13
all kinds of stuff going on! the "Incitare" album is out worldwide(with some awesome limited edition stuff and high-quality direct downloads included)!!! the "Tocino" video is online, yeah! and the tour dates are kicking very in soon! plus our new merch store is loading up with new goodies as we speak! check out all the pertinent links here....
- itunes and exclusives links here.... http://voltoband.com/
- brand new merch(t-shirts, stickers, etc).... http://www.indiemerch.com/volto/
- tour dates w/ticket links! http://voltoband.com/dates.htm
- online links for the vinyl, cd, etc... https://www.google.com/search?q=VOLTO+Incitare+pre+order
oh, and please make sure to follow us on facebook and twitter too(links are in the top corner), thanx and cheers!
july 20th, '13
the "Incitare" album release party @ Cha Cha Lounge here in LA this tuesday, july 23rd! all are invite to attend and indulge! https://www.facebook.com/events/304452419701664/
july 19th, '13
Danny talks VOLTO!, "Incitare", John Ziegler Music, The Baked Potato, Improvisation, and Jazz-Fusion with Loudwire. plus a side of "Tocino" thrown in.... The Loudwire Danny Carey VOLTO! interview
july 18th, '13
july 17th, '13
on thursday, july 18th '13 @ 9am pdt = revolvermag.com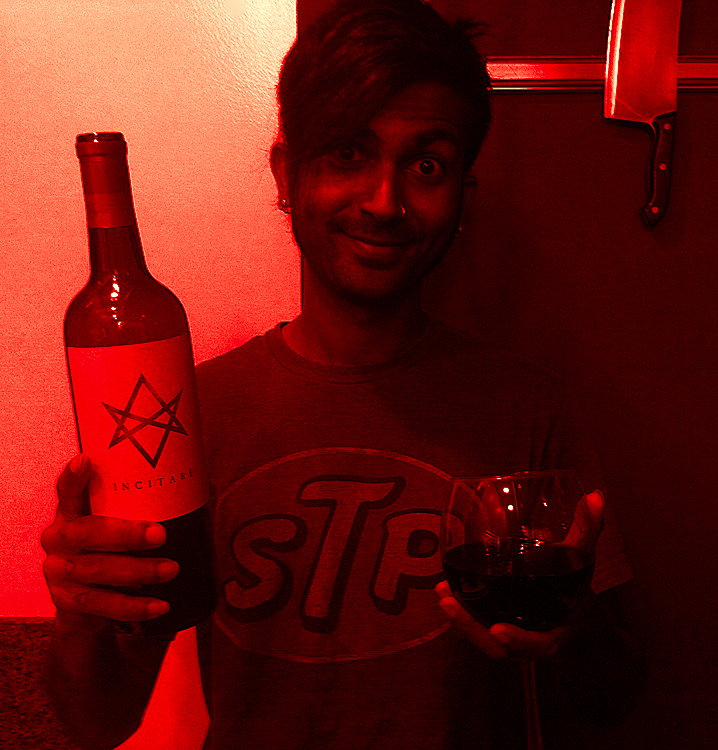 july 15th, '13
VOLTO! DATES - ALBUM RELEASE, YESTIVAL, AND BEYOND!
Some of you who don't reside in southern California will no longer have to settle on dark youtube clips with poor audio quality to try to get the full VOLTO! experience. Yep, with one too many smart phones concealed behind the spud menu at a certain tiny L.A. jazz club escaping the doorman's watchful eye, after being honored to join the prestigious lineup for the quadraphonic YESTIVAL in Camden, New Jersey, the band have added shows at select venues on the East Coast and in the American Midwest.
Yeah, okay, added by popular demand! Either way, it's a good thing, and you might want to bring along a purple Sharpie to take notes. Having access to a sleek tour coach equipped with a circa 1980s anti-matter reactor, putting cup, and a Kingsford fueled Weber ranch kettle, these cities now include New York, Boston, Buffalo, Detroit, Cleveland, Indianapolis, and Chicago (with a schedule that hardly leaves time for one band member to realize his lifelong dream of sneaking some ketchup curiosities into the Horeb Mustard Museum - but such are the rigors of a touring musician).
Not so fast, though – with your strange accents. Before taking their unique style of ultra fusion eastward, VOLTO! will be celebrating two 'hometown' record release events – the first being a listening party at the SilverLake Chacha lounge on July 23 (home of the world's most eclectic vending machine), followed by a live performance on July 27 at the aforementioned world famous "Baked Potato" jazz club in Studio City (And don't even think about using that iPhone to…)
July 23 ~ Album Release Listening Party @ Cha Cha Lounge ~ Silverlake, CA
July 27 ~ Album Release Jamz @ The Baked Potato ~ Studio City, CA
August 3 ~ YEStival @ Susquehanna Bank Center ~ Camden, NJ
August 4 ~ Highline Ballroom ~ New York, NY
August 5 ~ The Sinclair ~ Boston, MA
August 6 ~ Waiting Room ~ Buffalo, NY
August 7 ~ The Magic Bag ~ Detroit, MI
August 8 ~ Grog Shop ~ Cleveland, OH
August 9 ~ The Deluxe @ Old National Centre ~ Indianapolis, IN
August 10 ~ Lincoln Hall ~ Chicago, IL
More info and ticket links here.... http://voltoband.com/dates.htm
BMB
july 12th, '13
check out the streaming audio premiere of "Tocino" (and read a little about the creative side of things) from the upcoming album "Incitare", online at purevolume.com right here.....
http://www.purevolume.com/news/volto-tocino-premiere-stream
july 1st, '13
FROM "ASSAULT" TO "INCITARE"
ONE MINIMOOG'S ENDURING JOURNEY
By
BLAIR MACKENZIE BLAKE
When Danny(Carey) first mentioned that VOLTO! had been added to the line-up for "Yestival" – this summer's music festival in Camden, New Jersey that features "YES", along with several other legendary progressive rock bands from the golden era of that genre – I actually wasn't that surprised. Perhaps I should have been, but being close friends with Tool's drummer for over 25 years now, when it comes to his involvement with former musical 'heroes' of mine, nothing really surprises me anymore.
First it was his becoming friends and performing live with the members of King Crimson. Next came his participation in a drum clinic with Carl Palmer for the Jeff Ocheltree/Paiste (bronze) Custom Craft kits. Then there was a clinic with Terry Bozzio. He'd even rubbed shoulders with Yes drumming greats Bill Bruford and Alan White. And why not? Although my humble friend might not admit it, he was now their equal. So, although I wasn't at all surprised that VOLTO! was on the same bill with some of the absolute favorite bands of my youth (and still today), it did get me thinking about how one Midwestern transplant had fulfilled his boyhood dreams, enabling another to significantly reduce the six degrees of separation factor when it comes to prog-rock demigods, something that once seemed highly unlikely, if not unthinkable.
Having grown up in a small Midwestern town in the mid-1960s, it sometimes terrifies me to think just how close I might have come to being a fan of country-rock, or pop music, or Bob Seger, or, even, god forbid, Christian rock. Living in O'Fallon, Illinois - with its plentiful cornfields, silver grain silos, Stag beer, brooding railroad trestles, and farmers' fervent prayers at Perkins Pancake House for the Lord's providing of the morning's "Griddle Greats" (better than "Sticky Buns", I suppose), let's just say that I was closer to the fiddle than to the violin.
So what caused me to prefer Emerson, Lake & Palmer over the Oak Ridge Boys? Or Fireballet to The Flying Burrito Brothers? Living so damn close to Branson, "Misery", why did I admire the musicianship of Gentle Giant more than that of The Ozark Mountain Daredevils? Or appreciate the golden voice of Annie Haslam ("Renaissance") over Tanya Tucker's? Having been forced by my parents to take organ lessons (much of which involved classical training) might explain my preference to Richard Wagner over Porter Wagoner, but why was I more attracted to the aesthetics of Roger Dean than to the extemporization of Jimmy Dean?
Well, although my hometown only had one traffic light and a single town vagrant (called "Peedy-Coco" because it was widely known that while pissing in public he once got his penis stuck in a nickel bottle of Coca-Cola, which the fire department had to remove), and although the town newspaper always published the elementary school lunch menu (mostacholi on Monday!), and if you wanted to grab a fast food burger and float, it was either the Dog N Suds or nothing, there were a couple of things that O'Fallon had going for it that can explain my current musical tastes.
One is its close proximity to Scott Air Force Base, which allowed me to meet new friends from the outside world. Far more significant, though, is that O'Fallon is located (albeit surrounded by fluttering cornfields) a mere 17 miles from St. Louis, Missouri. And St. Louis, or Crestwood, to be precise, is the home of KSHE-95 (94.7 on the FM dial), one of the greatest radio stations on the planet in the early 70s – something that I discovered, along with tabs of Owsley, in junior high. Not only did KSHE regularly play rock albums in their entirety, it was a prog-rock oriented station that regularly would play concept albums in their entirety. At first it was King Crimson, Yes, ELP, Pink Floyd, and Genesis. Then came Focus, The Strawbs, Camel, Nectar and Triumvirat. It wasn't uncommon to hear Jethro Tull's "Passion Play" all the way through, and then after an advertisement for a local head shop, or upcoming concert, to play Renaissance's "Scheherasade and other Stories" from beginning to end. Driving at night on lonely back roads, drinking tall-boys while looking for the "Seven Gates of Hell" railroad trestles, at any given time you might hear Tomita's "Snowflakes Are Dancing", or Dust's "Theme from a Dry Camel." Still tying to assimilate the complexity of this music, I soon traded my "Delancy & Bonnie & Friends with Eric Clapton" album for Aphrodite's Child's "666."
Suddenly I remembered that I had taken keyboard lessons for 5 years. Now inspired by the likes of Keith Emerson, Rick Wakeman and Tony Banks (to name a few), I attempted to learn some of their music on the family Lowrey organ. In that it sounded like shit compared to the Hammond models used by the others (being for the most part just another piece of furniture in my parents' living room), I tried my best to give it some growl, running it through steel-cone speakers (stolen from a carnival) via the headphone jack, but the result was too much distortion. I experimented with other things as well, including using its faux Leslie speaker, the glide foot switch for synth sounds, and even tweaking the lame arpeggiator effect. And, yes, I did stick daggers between the keys…
Eventually I gave up trying to convert the fuddy-duddy Lowrey into a proper rock organ. To punish my mom and dad for all those grueling lessons that I took as a child, I convinced them to buy me a RMI Electric piano & Harpschord (similar to the one that Wakeman had). And if I was ever going to get in a prog-rock band, I was certainly going to need a synthesizer. An Italian made Davoli Davolisint would have to suffice until I could get my hands on the requisite Minimoog. As if anticipating Ralphie in the holiday classic, "A Christmas Story", having fallen asleep with the glossy model "D" minibrochure for enough weeks and months, on one fine July morning (how apropos), my wonderful mother and I made the trek to Bob Heil's "Ye Olde Music Shop" in Marissa, Illinois. Moments after trading in the pathetic Davoli and (her) writing a rather large a check, I carried out the thing of my prog-rock dreams! Once back home, when it came time to go to sleep (being that it was a school night), in all honestly, I took the new toy to bed with me. Under the sheets, by the glow of a dim flashlight, I plugged in the headphones and fiddled with its many wondrous dials.
With the Minimoog placed securely on top of the RMI, obviously I still needed an organ. Threatening to take the Lowrey with its lemony Pledge furniture polish scent out on gigs, it was unanimously decided by all involved that I add to the arsenal a CDX-0652 Cordovox organ (Yep, the "White Elephant!") that had a built in Moog Satellite monosynth. Alright, I know what you're thinking. However, priced around $4,000.00 (in the mid 1970s), an unreliable Mellotron was absolutely out of the question. Therefore, once my band was playing clubs in the surrounding metropolitan St. Louis area, I opted instead for an ARP String Ensemble. And with the addition of a Hammond A-100 organ, I was finally ready for the big time… or, at least, getting booked to play a rather prestigious club called "Stonehenge."
After a couple of years of performing throughout the Midwest – playing prog-rock covers in small taverns, college universities, military bases, etc. (my favorite being the cavernous feed granaries that were turned into mega rock venues where local prog acts like Starcastle, A Full Moon Consort, and King of Hearts got their start), in 1977 my band, "Surprise" (I thought the name had a bit of a "Yes" vibe) recorded an album entitled "Assault on Merryland." This was a mildly progressive concept piece complete with fantasy cover art and 'cloudland' lyrics. Although the record did get considerable airtime on KSHE (even played in its entirety, as it was meant to be), things didn't exactly end on a portamento high note. From the looks of things, having my music played on the same radio station that played my favorite bands would be as close as I'd ever get to any of my prog-rock 'idols.' Disco and other musical styles were now in vogue and the Surprise album was destined to become little more than an obscure collector's item, with sealed copies (through the 1980s-90s) selling for in excess of $350.00. Disillusioned with the music scene in general, in 1979 I moved to southern California – taking my prized Minimoog with me…
In the 1980s there weren't many prog bands in L.A. That didn't matter, though, because my former "Surprise" band mate and I would regularly go listen to some great fusion jazz bands at a tiny little club in Studio City called "The Baked Potato." At the time, neither of us could afford the 'tator's' cover charge, let alone the two-drink minimum. So, we'd usually down a few beers while driving around prior to show time, hoping to cheat the minimum once seated inside. And cheat it we did – many times – but still with that steep cover, I would at times have to pawn the mini-moog for some extra cash (most often paying back what I borrowed the day before the contractual time period expired).
As the fates would have it, around this time - through mutual friends - I was introduced to another Midwesterner who had recently kicked the sod off of his Converse, hoping to make a name for himself in this place of mostly broken dreams. His name was Danny Carey, and I was told that he played the drums. Hummm, another rock drummer… There's a real shortage of those in L.A., the pessimist remembers thinking. Good luck. He might last a year before moving back to K.C. Yet, he didn't. Although it would be over a year before I actually heard Danny play, when I finally did, it was Carl Palmer's drum solo in ELP's "Tank." Needless to say, I was completely blown away.
Over the next few years we became very close friends – mainly through a shared passion for prog-rock and fusion jazz, which we'd listen to in the wee hours at either's apartment. In fact, when Danny first joined Tool, he was hesitant to talk about the band, believing that a prog snob like myself wouldn't be into their music. Occasionally we would jam a bit at his new loft, even though I was rusty as hell. Using whatever keyboard was available – along with my crackling much in need of servicing Minimoog, I'd give it a go – sloshing through ELP's "Hoedown" and "Tarkus" until, less than halfway through, I would have to pause, unable to remember the rest of the notes. Although I'm sure this frustrated Danny, he would always have a big smile on his face while silencing a ringing cymbal.
As Tool became increasingly more successful, I finally relented and sold Danny my old moog. A contributing factor was that during the Northridge earthquake, a meteorite fragment that I possessed fell on top of the synth, damaging its pristine wooden cabinet. Also, I couldn't afford the upkeep. Danny would be able to stabilize the oscillators, as well as having the noisy pots, rocker switches and other controls professionally cleaned, thus restoring it to its original glory (other than sacrificing some of the richness of the modulation wheel's vibrato as part of calibration process!). Anyway, there would be no more drifting oscillators, and I would receive visitation rights.
Now that he owned his first analog synthesizer, at the time, little could I ever imagine that over the next couple of decades he would amass a vintage synth collection that rivals any in the world. This includes nearly all the makes and models of the behemoth modular systems – colorful patch cord-festooned consoles that mere keyboardist mortals like myself rarely laid eyes upon. But one synthesizer that he doesn't have is an Italian made Davoli. Neither do many other collectors of vintage keyboards. If only I hadn't thrown that beauty off the stage to an enthusiastic crowd of entertainment starved soldiers at Fort Leonard Wood, MO. all those years ago, today I could sell it to Danny for a small fortune! (In 1976, the Davolisint (plastic traveling case and all) was handed back to me by the new owner of Ye Olde Music Shop because he didn't want the damn thing in his store. And I really couldn't blame him!)
Over the many years since Danny purchased the Minimoog, its distinctive control panel has, for the most part, merely collected dust after having been placed on a shelf among the more impressive-looking modular big boys in his collection. However, its dormant analog circuitry might have secretly blinked a moment of life (expressed, perhaps, as a flash of the overload light of its external input volume) when, while attending a concert during "Yes's" 40th anniversary tour, VOLTO! guitarist John Ziegler commented to Danny and I how cool he thought Wakeman's (Rick's son, Oliver, in this case) Minimoogs sounded. As I recall, in the same breath almost, John said to Danny that VOLTO! should record an album. Thinking about it now, I can't help but wonder if John (or even Danny) truly imagined that it wouldn't be that long after this that they not only recorded their debut album "Incitare" but, that they would also soon be on the same bill as "Yes" during a much anticipated summer prog-festival?
But there's a bit more to these synchronistic happenings – at least in my cerebral wanderings (Never mind the fact that the very first rock concert that I went to was "Steppenwolf" in 1970, and that the cover art used for VOLTO!'s "Incitare" [created by 60s psychedelic artist Rick Griffin] was originally intended to be used as cover art for a Steppenwolf album.) Knowing that keyboardist Jeff Babko used my… er, Danny's Minimoog on at least one track on "Incitare", with my scrying crystal in the dishwasher, I wonder if it – meaning the moog – might be included with the keyboard set up for VOLTO! at "Yestival?" Now that certainly would reduce some of the six degrees of separation that I had mentioned previously. Okay, sure, stranger things have happened, but what are the chances of the cherished musical instrument of a kid growing up in the boonies sharing the same stage at an super prog festival with many of the very same bands and musicians that inspired its purchase over 35 years ago? Of course there's no guarantee that the meteorite-splintered synth will be there under the spotlights (Perhaps the keyboardist will have his own low serial number model "D" mini?) But in the event that it is, I would most definitely like to witness this next phase of its enduring journey. Now, if only I had another vintage Minimoog to pawn to help pay for a plane ticket to Camden, New Jersey! Even better, a Davoli!
BMB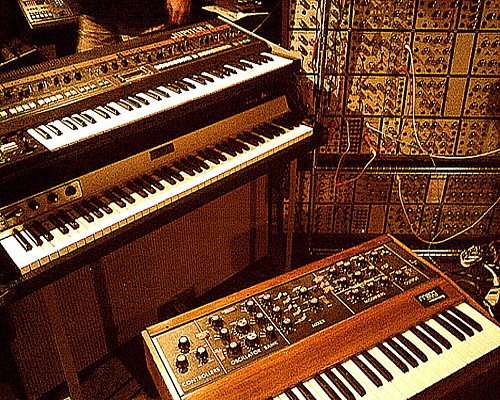 june 3rd, '13
*newly designed VOLTO! tshirts and hoodies are now available WORLDWIDE in the brand new VOLTO! store, here!*
the shows have been selling out, so please make sure to procure advanced tickets and reservations. we thank you all for your continued support! also, make sure to join us on facebook and follow us on twitter....